I'm leaving in the morning for
A-kon
, so I won't be back until late Sunday. That information is mostly for my SP, so that she knows why when I con't email her back directly.
For now, though, I'm going to leave you with some pictures of FOs I hope to be selling at A-Kon.
A scarf that is really much prettier in person.
A pretty little cabled bag.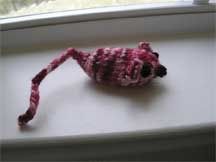 Some kitty toys
And a family of kitty hats. I've been calling them The Bradys - what do y'all think?
Also, the cute link of the day:
Catster.com
. I've been referring to this as "MySpace for cats". The link is a direct link to Bryce's cat, so if you have a kitty - put her on Catster and add Bast!